Module 9: Yanhua Mini ACDP Module9 Land Rover Key Programming Support KVM from 2014-2019 Add Key & All Key Lost
Special Price
$360.00
was
$399.00
Yanhua Mini ACDP Module9 Land Rover Key Programming Support KVM from 2014-2018 Add Key & All Key Lost
Video: Use Mini ACDP to program Land Rover key (add key & all key lost)
Yanhua Mini ACDP Module9 Land Rover Key Programming Support KVM from 2014-2019 Add Key & All Key Lost
ACDP-Jaguar&Land rover KVM
1: No disassembly,No soldering,No removing the crystal oscillator and capacitors on the KVM board,No risk of damage KVM.

2: Set anti-theft data reading and writing, anti-theft data calculation, key programming in one.

3: The interface board replaces the welding wire, the pin connect with intelligent detection,and the data reading and writing is safe and reliable.

4: With the key refresh function, No longer being afraid of loss caused by key locked.
Support models:
Range rover:2015-
Land rover aurora:2015-
Land rover discovery:2015-
Jaguar XE/XEL:2015-
Jaguar XJ:2015-
Jaguar F-TYPE:2015-
Range rover sport:2015-
Land rover star pulse:2015-
Land rover discovery 4 :2015-
Jaguar XF/XFL:2015-
Jaguar F-PACE:2015-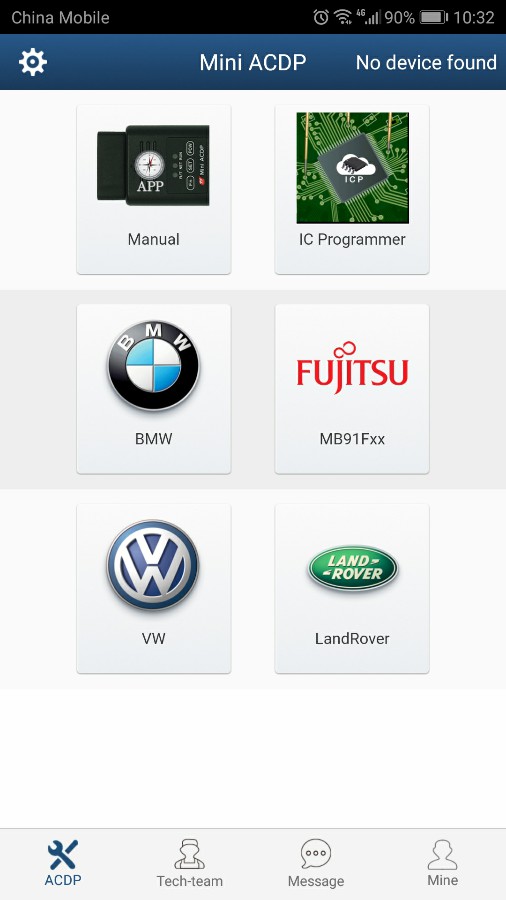 Yanhua Mini ACDP Module9 Land Rover Configuration:
1pc x Jaguar/Land Rover KVM Module Interface Board
1pc x Jaguar/Land Rover KVM Module simulation board
3pcs x Jaguar/Land Rover KVM Module Copper Pillar Package(Single Head Six angle stud M4*12+6mm)
2pcs x Jaguar/Land Rover KVM Module Test Cleaning Probes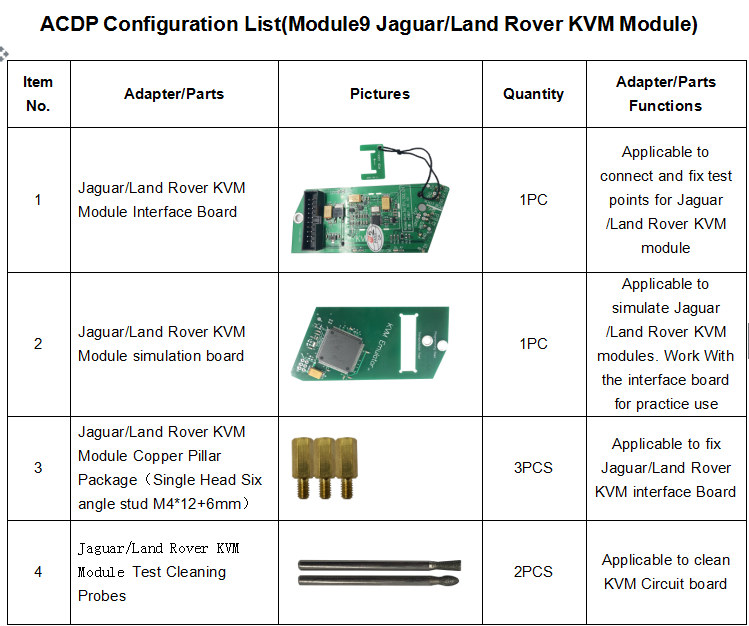 FAQ:
Q: Will it program land river lr3 2006 with after market key?
A: The module 9 only support Land Rover and Jaguar after year 2015, for Landor Rover and Jaguar, you can choose digimaster 3 and obd ii to match
Q: LAND ROVER SPORTS 2017,lost my smart key, whether it support for?
A: Yes, it support
Q: If this module support range rover sport 2016 model all key lost?
A: Yes, it support, both all key lost and add keys are supported