2020 SVCI 2020 Updated version of SVCI-2018
Special Price
$330.00
was
$380.00
Categories:
Default Category, SVCI Commander Price, FVDI Function, FVDI Abrites Full Version Price, Featured Products, Hot Products, FVDI FAQ, What FVDI Can't Do?, What FVDI Can Do?, FVDI Pending Functions, BMW DTC database missing problem for SVCI-2020
SVCI 2020 V11.0 software download (Published on 30-Sep-2020):
https://mega.nz/file/KHJ3wKSK#NpbwdnZnbMXLrC5VqRP9cymXn_htKY2d7IhFWkqFgJY   
---- update VAG V37/V38 Special functions!
---- please first update SVCI-2020 firmware inside the new V11.0 software.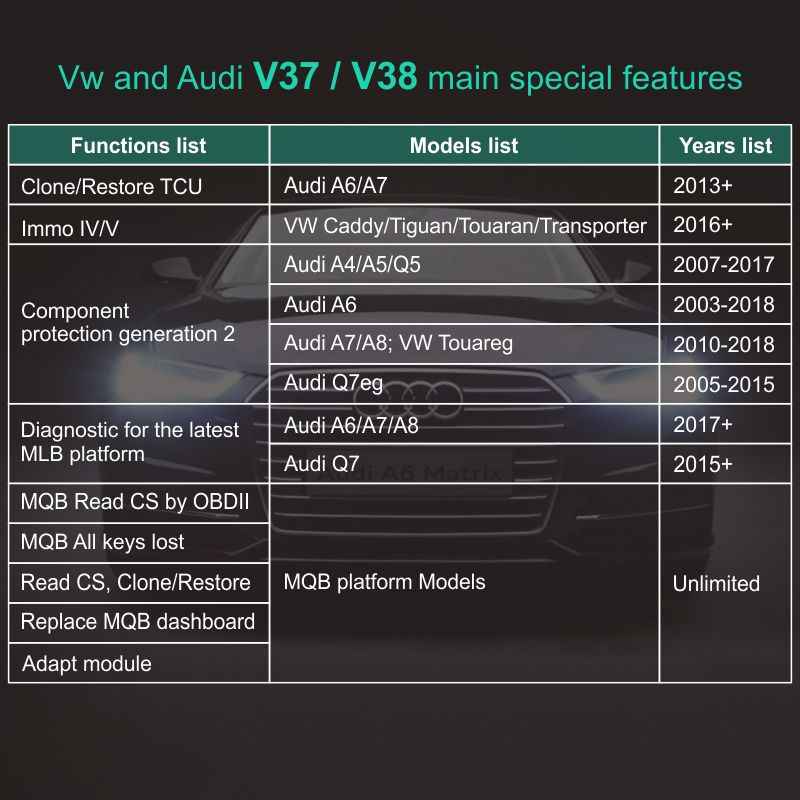 VAG v38 VAG Special Functions DEMO:
New SVCI 2020 Updated version of FVDI-2018 
No Need Connect to Server!
No Need Online Activation!
No Time Limitation!
Important:  VAG/Jaguar Landrove/ SUZUKI /DAF sepcial functions work! 
   SVCI (FVDI) Hardware Comparison
 
 

FVDI-2014 

 FVDI-2015 
FVDI-2018
SVCI-2019
 

SVCI-2020 

Software Numbers
 AVDI 18 Software 
 AVDI 18 Software 

 AVDI 18 Software

+ VVDI2 software   

 AVDI 18 Software

+ VVDI2 software

 AVDI 21 Software

+ VVDI2 software  

Software Version
 One version
 Two Version
 Two Version 
 Three Version
 Three Version
 Vehicles List
before 2014
 before 2015
 before 2015

before 2019 for VW/MB/BMW

Before 2015 for other brands cars

 before 2019
 Network Connection 
 No
 Yes
 Yes
 No
 No
 Online Activate
 No
 Yes
 Yes
 No
 No
 Time Limitation
 forever
  forever
  forever
 forever
 forever
 Stability
 Strong 
 General
 General
 Strong
 Strong
Need Repair
 No
 Maybe
 Maybe
 No
 No
 
 
 
 
 
 
   SVCI (FVDI) Software Comparison
 
   

FVDI-2014

    
    FVDI-2015    
   

FVDI-2018

   
   

SVCI-2019

   
   

SVCI-2020

    
Jaguar / Land Rover
 x 
 x 
 x
 x
 V2.6
Suzuki
 x
 x
 x 
 x
 V1.2
 Daihatsu
 x
 x
x

 x

 V1.4
VVDI 
 x
 x
 V1.2.2
 V1.2.2
 V1.2.2
VW/Audi/Skoda/Seat
 V18.0

V18.0

V24.0

V18.0

V24.0

V18.0 (support special functions)

V24.0 (support special functions)

V37.0 (not support special functions)

V18.0 (support special functions)

V24.0 (support special functions)

V37.0 (support special functions)

V38.0 (support special functions)

 BMW / MINI 
V10.4
  V10.4
  V10.4

V10.4 (support special functions)

V10.5 (not support special functions)

V10.4 (support special functions)

V10.5 (not support special functions)

 Mercedes Benz / Smart

/Maybach

 V5.11

V5.11

V7.0

V5.11

V7.0

V5.11 (support special functions)

V7.0 (support special functions)

V10.8  (not support special functions)

V5.11 (support special functions)

V7.0 (support special functions)

V10.8 (not support special functions)

Renault / Dacia
V5.2

V5.3

V6.3

V5.3

V6.3

V5.3 (support special functions)

V6.3 (support special functions)

V7.4  (not support special functions)

V5.3 (support special functions)

V6.3 (support special functions)

V7.4  (not support special functions)

 Peugeot / Citroen
V5.10

V5.10

V6.7

V5.10

V6.7

V5.10 (support special functions)

V6.7 (support special functions)

V5.10 (support special functions)

V6.7 (support special functions)

V8.0 (not support special functions)

 Fiat / Lancia / Alfa / FCA
V5.1

V5.1

V5.7

V5.1

V5.7

V5.1 (support special functions)

V5.7 (support special functions)

V5.1 (support special functions)

V5.7 (support special functions)

V7.6 (not support special functions)

 Opel / Vaushall 
 V5.8

V5.8

V6.6

V5.8

V6.6

V5.8 (support special functions)

V6.6 (support special functions)

V5.8 (support special functions)

V6.6 (support special functions)

V7.5 (not support special functions)

 Ford / Mazda
V4.9
 V4.9
 V4.9
 V4.9 (support special functions)

V4.9 (support special functions)

V7.7 (not support special functions)

Chrysler / Doge / Jeep
V3.3
V3.3
V3.3
 V3.3 (support special functions)

V3.3 (support special functions)

V3.4 (support special functions)

Toyota / Lexus/ Scion
V9.0
V9.0
V9.0
V9.0 (support special functions)

V9.0 (support special functions)

V11.7 (not support special functions)

Nissan / Infiniti
V4.3
V4.3
V4.3
V4.3 (support special functions)

V4.3 (support special functions)

V5.7 (not support special functions)

Hyundai / KIA
V2.1
V2.1
V2.1
V2.1 (support special functions)

V2.1 (support special functions)

V4.4 (not support special functions)

Volvo
V4.3
V4.3
V4.3
V4.3 (support special functions)

V4.3 (support special functions)

V6.2 (not support special functions)

Mitsubishi Motors
V2.1
V2.1
V2.1
V2.1 (support special functions)

V2.1 (support special functions)

V3.7 (not support special functions)

Porsche
V4.1
V4.1
V4.1
V4.1 (support special functions)

V4.1 (support special functions)

V7.1 (not support special functions)

 DAF
V1.0
V1.0
V1.0
V1.0 (support special functions)
V1.0 (support special functions)

Bikes / Snowmonilrd

/ Water Scooters

V1.2
V1.2
V1.2
V1.2 (support special functions)

V1.2 (support special functions)

V2.0 (not support special functions)

Tag Key Tool
V6.2
V6.2
V6.2
V6.2
V6.2
   SVCI (FVDI) Vehicle Years
 
   

FVDI-2014

    
    FVDI-2015    
   

FVDI-2018

   
   

SVCI-2019

   
   

SVCI-2020

    
Jaguar / Land Rover
 x 
 x 
 x
 x
 up to 2016
Suzuki
 x
 x
 x 
 x
 up to 2019
 Daihatsu
 x
 x
x

 x

 up to 2019
VVDI 
 x
 x
 up to 2015
 up to 2015
 up to 2015
VW/Audi/Skoda/Seat
 up to 2015

 up to 2015

 up to 2015

 up to 2019

 

 up to 2019

 BMW / MINI 
 up to 2014
 up to 2015
 up to 2015

 up to 2019

 up to 2019

 Mercedes Benz / Smart

/Maybach

 up to 2014

 up to 2015

 up to 2015

 up to 2019

 up to 2019

Renault / Dacia
 up to 2014

 up to 2015

 up to 2015

 

 up to 2015

 

 up to 2019

 Peugeot / Citroen
 up to 2014

 up to 2015

 up to 2015

 up to 2015

 up to 2019

 Fiat / Lancia / Alfa / FCA
 up to 2014

 up to 2015

 up to 2015

 up to 2015

 up to 2019

 Opel / Vaushall 
 up to 2014

 up to 2015

 up to 2015

 up to 2015

 up to 2019

 Ford / Mazda
 up to 2014
 up to 2015
 up to 2015
 up to 2015

 up to 2019

Chrysler / Doge / Jeep
 up to 2014
 up to 2015
 up to 2015
 up to 2015

 up to 2019

Toyota / Lexus/ Scion
 up to 2014
 up to 2015
 up to 2015
 up to 2015

 up to 2019

Nissan / Infiniti
 up to 2014
 up to 2015
 up to 2015
 up to 2015

 up to 2019

Hyundai / KIA
 up to 2014
 up to 2015
 up to 2015
 up to 2015

 up to 2019

Volvo
 up to 2014
 up to 2015
 up to 2015
 up to 2015

 up to 2019

Mitsubishi Motors
 up to 2014
 up to 2015
 up to 2015
 up to 2015

 up to 2019

Porsche
 up to 2014
 up to 2015
 up to 2015
 up to 2015

 up to 2019

 DAF
 up to 2014
 up to 2015
 up to 2015
 up to 2015
 up to 2019

Bikes / Snowmonilrd

/ Water Scooters

 up to 2014
 up to 2015
 up to 2015
 up to 2015

 up to 2019

Tag Key Tool
 up to 2015
 up to 2015
 up to 2015
 up to 2015
 up to 2015