Xhorse XDSKE0EN Smart Key Box Bluetooth Adapter used with MINI Key Tool, Key Tool Max, Key tool Plus, VVDI2
SMART KEY BOX is a newly designed tool by Xhorse, aiming to help users achieve a non-remote driving experience. By installing the tool into your car, your smartphone is able to work as an independent car key. Usually, it inherits all of the functions of your original remote, including lock, unlock, panic and trunk. Furthermore, keyless entry is also a function that can be performed on your smartphone.
In stock Xhorse XDSKE0EN Smart Key Box Bluetooth Adapter
The Xhorse Smart Key Box is an adapter that can be used to access a vehicle using a mobile phone app via Bluetooth connection. In other words, with this adapter, you can add Bluetooth Connectivity to the Central Locking System / Keyless Entry System of any vehicle that you can configure an Xhorse Universal Remote to operate. This adapter will allow wireless (via bluetooth) locking, unlocking, and remote start. Keep in mind that this adapter does not add any of these features to the vehicle. In order for this adapter to wirelessly lock, unlock, or remotely start the vehicle, these features have to already be functioning in the vehicle before the Xhorse Smart Key Box is installed.


It adpots advanced RF technology and is suitable for the car with push start function.
Support add smart key for car
Support add or modify the keyless-enter function

Use VVDI Device to generate remote control. Support device: MINI Key Tool, Key Tool Max, Key tool Plus, VVDI2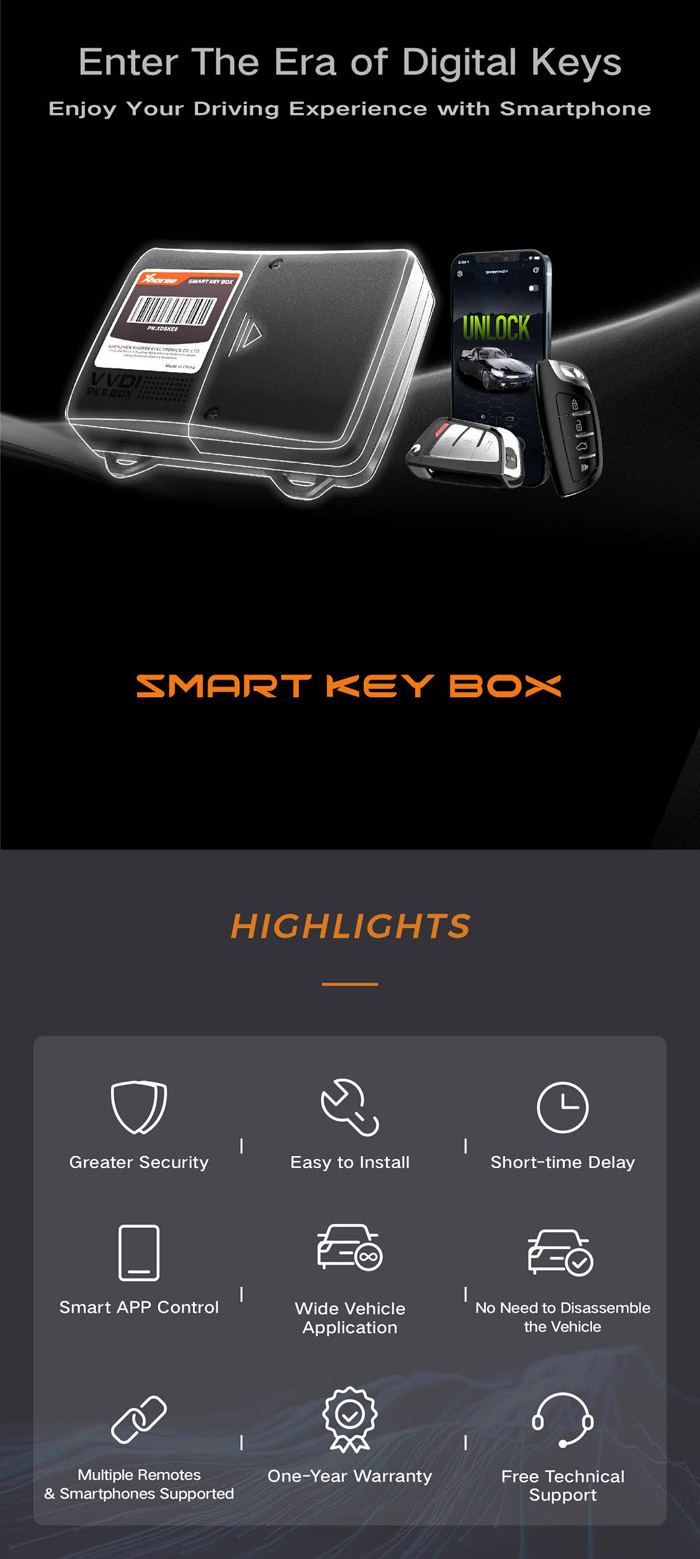 Xhorse Smart Key Box App Download:
Scan QR code here to download or search 'Smart key box' app in Google or Android play store, then install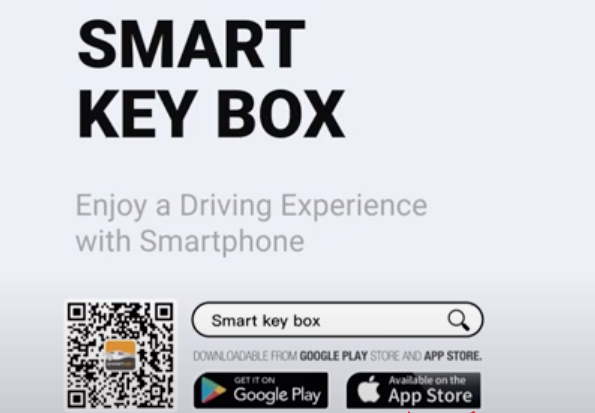 How to install Xhorse Smart Box Step by Step?

1, Take out the original remote control, solder the cable according to the soldering diagram of the original remote control, pay attention to the direction.
2, Connect the RF antenna, LF antenna (connect any two interfaces of Lfantenna), and the original remote control to be transferred.
3, Find the Vbat wire and ground wire from fuse box, OBD interface or other locations
4, Find the ACC signal line (the original car radio, the line with electricity after the navigation power onorthe instrument light on)
5, Connect the Vbat wire, ground wire and ACC wire of the power supply cable to the car
6, Setting DIP switch;
7, Bindings of remote control and mobile phone (refer to binding instruction);
8, Install complete;
9, After installed, take a key close to the car, test the automatic unlock and lock function if you stay away (test other keys in the same way)
10, Test unlock, lock, trunk and car panic function after connecting with APP.

The installation process in a glance:
Solder Supplied Wires To The PCB Of An Xhorse Universal Remote
Program This Remote To The Vehicle
Connect The Smart Key Box To The Vehicle Through The OBD2 Connector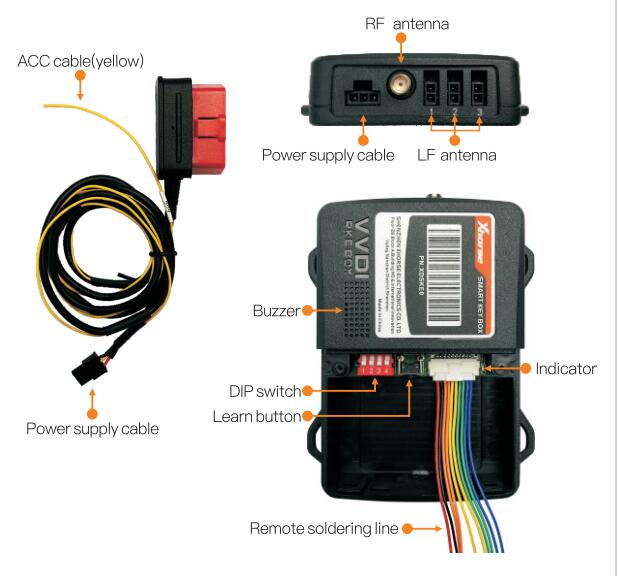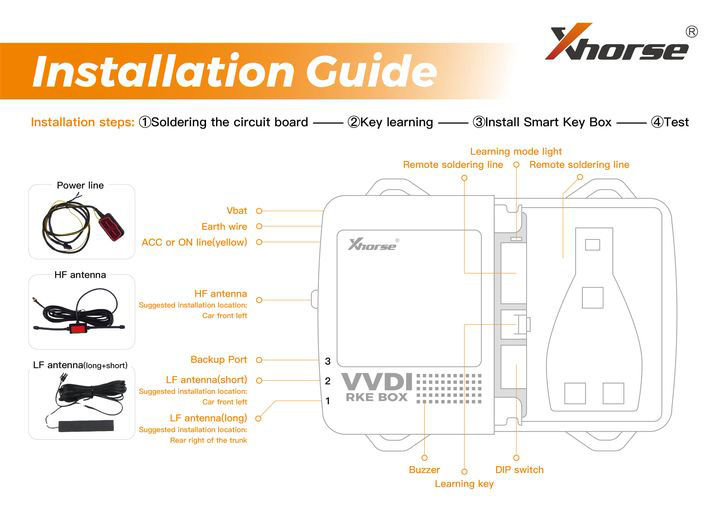 A maximum of 6 mobile phones and 6 smart keys are supported by this device.


Package List:
1pc smart box
2pcs LF antenna
1pc RF antenna
1pc Power supply cable
1pc User manual
1pc Product quality certificate