VNCI J2534 Nano Compatible with J2534 Passthru IDS HDS TIS Forscan SDD PCM-Flash & ELM327 Diagnose J1979
Compatible with J2534 Passthru and ELM327.
Compatible Vehicles Switch Mode Automatically
Buy 5 for

$11.00

each and save

12

%

VNCI NANO J2534 ScanMaster installataion.PDF

VNCI NANO J2534 User Manual.PDF

VNCI J2534 Nano Compatible with J2534 Passthru & ELM327 Diagnose J1979Product Introduction:
VNCI (Vehicle Network Communication Interface) is a device that works between diagnostic software and vehicle. It is compatible with J2534 Passthru and ELM327.
Highlights:
1. Support J2534 and ELM327 mode in one device. Switch mode automatically.
2. More speedup. Faster communication and reprogramming.
3. More stability. Never let you down while reprogramming.
4. Portable and convenient. Small package and easy to carry.
Product Functions:
1. Supports most all of J2534 compatible software(HDS, TIS, ODIS, JLR SDD, PCMFLash...).
2. Supports most all of ELM327 software(ELMConfig, Forscan, ScanMaster...).
3. Supports ECU reprogramming in J2534 mode with programming voltage.
4. Supply free software for diagnosing J1979 compatible vehicles.
5. Support
Windows 8/10/11, 32/64bit
6. Supported languages:
ODIS: English, Japanese, Portuguese, Romanian, Korean, Dutch, Polish, Turkish, Spanish, French, Italian, Croatian, Danish, German, Swedish, Finnish, Slovenian, Czech ,
Russia, Greece, Chinese
Toyota Techstream: English, French, Spanish, Japanese, German, Italian, Russian, Turkish, Chinese
Honda HDS: English, German, Czech, Dutch, Finnish, French, Greek, Hungarian, Italian, Norwegian, Polish, Portuguese, Russian, Slovenian, Spanish, Swedish, Turkish, Japanese ,Chinese
JLR SDD: German, English, Spanish, French, Italian, Dutch, Portuguese, Russian, Japanese, Chinese, Korean
Forscan: English, Russian, Polish, Italian, German, Hungarian, Turkish, French, Latvian, Bosnian, Finnish, Romanian, Portuguese, Traditional Chinese, Simplified Chinese, Czech, Lithuanian, Slovak , Ukrainian
Scanmaster elm 327: English, Czech, German, Spanish, French, Hungarian, Italian, Polish, Serbian, Turkish, Danish, Croatian
Pcmflash: English, Russian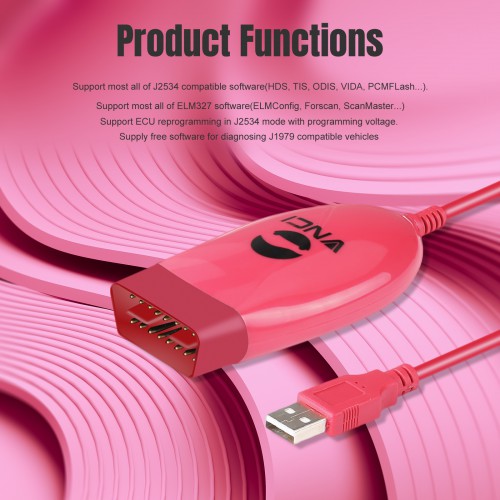 VNCI J2534 Nano protocol configuration:
1. ISO15765 (Standard/Extended frame).
2. ISO9141.
3. ISO14230.
4. J1850 PWM (Support IFR and 2X speed mode).
5. J1850 VPW (Support 4X speed mode).
6. Programming voltage.
7. Short to ground.
8. ELM327 with command set version 1.5a
VNCI J2534 Nano hardware configuration:
1. ISO11898-2 high speed CAN (OBDII PIN 6 and PIN 14. Speed up to 1000Kbps).
2. ISO9141 and ISO14230 K line (OBDII PIN 7 and PIN 15).
3. J1850 PWM (OBDII PIN 2 and PIN 10).
4. J1850 VPW (OBDII PIN 2).
5. Programming voltage (OBDII PIN 12 or PIN 13. Programming voltage up to 20V).
6. Short to ground (OBDII PIN 9. Short to OBDII PIN5).
7. Dimension(L*W*H): 95mm*55mm*23mm
8. Environmental:-20℃-45℃(-4℉-113℉)
9. Vehicle voltage requirements: 8-18V DC
10. Vehicle connection: Molded DLC3(OBDII-16)
11. Host connection: USB 2.0
NOTE:
Note for pcmflash 1.20: Customers need to buy a dongle (pcmtuner dongle sku:
se157-s
), and only supports the OBD mode. It does not support bench, boot, vag, dsg and gearboxes.
VNCI NANO J2534 Function List
| | | | |
| --- | --- | --- | --- |
| Software | Brand | Year | NOTE |
| Toyota TIS Techstream | Toyota, Lexus | 1995-2022 | Free download and activate software, update by link |
| Honda HDS 3.102 | Honda Acura | 1995-2022 | Does not support non-#7 K-line, update by link |
| ODIS-S, ODIS -E | VW Audi Skoda Seat | 1995-2022 | For J2534 VAG only. Don't support CAN FD protocol, Don't support Ignition switch voltage detection |
| Forscan 2.3.48 | Ford Mazda Lincoln | 1996-2022 | Cannot do 3, 11 medium speed CAN |
| Scanmaster V2.0 | | 1996-2022 | Free download and activate software |
| PCMFlash V1.2.0 | 67 modules | 1996-2022 | Yes, test by your side |
| J1979Tester | | 1996-2022 | Free Honda immo code calculation |
| ELMConfig | | 1996-2022 | Yes, test by your side |
| Volvo VI-DA | Volvo | 1996-2022 | Yes, test by your side |
| JLR SDD2 | Jaguar Land rover | 2006-2016 | Yes, test by your side |
| GDS2 | GM Buick Cadilac Chevlert | 1995-2022 | Yes, test by your side |
| Xentry Passthru | Benz, Smart | 1995-2022 | Yes, test by your side |
| ISTA-D, ISTA-P | BMW, Mini | 1995-2022 | Yes, test by your side |
| Consult III-R2R | Nissan, Infiniti | 1995-2022 | Yes, test by your side |
Package Includes:
1pc x VNCI J2534 Nano