(ship from Europe) Original Xhorse VVDI2 Commander Key Programmer Full Version for VW/Audi/BMW/Porsche/PSA all functions activated
Special Price
$1,209.00
was
$1,430.00
This VVDI 2 comes with Basic Function + VW + AUDI Generation 5 function+ BMW +BMW OBD Fucntion+BMW CAS4 + Porsche +Most Tango Functions + Part J2534 Functions +MQB +Copy 48by OBDII+COPY 48 96BIT+BMW FEM+Free pin, cs,mac authorization +English remote database
No need to activate any other authorizations

transponder-programmer-user-manual.pdf (1,572.0K)


vvdi2-bmw-user-manual.pdf (1,309.4K)


vvdi2-overview.pdf (783.9K)


vvdi2-online-update-instruction.pdf (436.0K)


how-to-install-vvdi2-software-and-driver.pdf (636.4K)
Original VVDI2 Full Version, support the latest version software, update online!
This VVDI2 Full Kit with Activated Software List as below:

1) VV-01 VAG 4th immobilizer
2) VV-02 VAG 5th immobilizer
3) VV-03 VAG Copy 48 transponder by OBDII
4) VV-04 ID48 96Bit Copy
5) VV-05 VAG MQB Immobilizer
6) VB-01 BMW OBD
7) VB-02 BMW CAS4
8) VB-03 FEM/BDC Function
9) VP-01 Porsche immo data tool
10) VPSA-01 PSA
11) VK-01 Transponder Programmer
12) VJ-01 Passthru J2534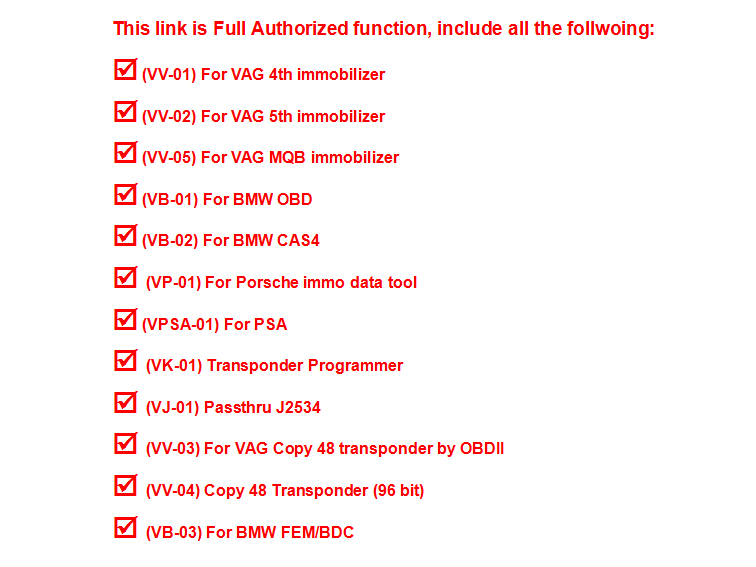 VVDI 2 Key Programmer Full Version

Top 6 Reasons to Get VVDI2:

1. This VVDI2 Full Package Contains PSA Function, AUDI Generation 5, BMW OBD Fucntion and BMW CAS4+ Functions Already, No Need Other Authorization
2. VVDI2 Full Package Covers All the Functions of VVDI, VVDI 5th IMMO Adapter, BMW Multi Tool & CAS Plus for BMW Multi Tool
3. Support VW, Audi, BMW AND Porsche
4. Update Online Free Lifetime


6. VAG EDC17 PIN, MAC, CS calculation via eeprom and flash dump (the function can be activated even without having condor key cutter), please provide VVDI2 serial number to activate
Please note:


1.Xhorse VVDI2 need internet support and require authorize for Condor Automatic key cutting machine:

OBD read MED17/EDC17 PIN / CS / MAC, calculate OBD data online, calculate EEPROM / FLASH for PIN/MAC/CS.
Only when you provide us the serial number of Condor MINI key cutting machine, we

can

open the authorization to read pin, cs, mac.
2.

It connects to the server and synchronizes once every 31 days. This process is done automatically by itself for 1 day, internet connection is required for this process.
3.Toyota H Chip authorization,please get by yourself:Select in xhorse update kit software bind,log in Customer Self Service,click Activate H.
Customer Feedbacks:

-Transfer instrument cluster in 2010 A5 + Mileage change ..YES GOOD
-Make OEM key for 2006 Audi A6 ... YES GOOD
-Change mileage in 2006 Audi A6 ... YES GOOD
-READ Kessy EZS OBD Audi A6 2006 ...YES GOOD
-READ BCM2 (BDM) 2010 Audi A4 ... YES GOOD
-All functions on older cars year 2000-2004 era working well ...YES GOOD
-S
uccessfully add a key bcm2 on a 2013 audi a5.
-
2007 Audi A4 B7 RB8 crypto - mileage correction ok
-
Audi BCM2 add spare key by obd worked fine, and I did one on a 2013 A5 and it worked flawlessly.
-
A6/Q7 EZS Kessy: Added a dealer key (remote sourced from the dealer) without issues. Seemed to read everything properly but I had a working key to begin with.
-
Audi A6: Testet with A6 read kessy working, learned new key
-
Skoda Octavia 2006: got CS & PIN , programmed key fine, but not remote programming.
-
VW passat. B5: Pulled PIN, programmed key, corrected miles.
-
VW Passat B6 2009: Pulled PIN but couldn't get 6 bytes CS, needed comfort dump.
-
VW Transporter T5 2006 : Pulled PIN Programmed key, no remote programming.
-
Audi A4 2006 : mileage correction success .
-
Audi A6 2003: Mileage correction fail. car not start. remove battery terminal. car start.
Special Function:

Including all VVDI functions, improved and more stable
More vehicle coverage, multi Immo functions
New added plug-in function and reserved connectors to include all VVDI functions
Add more vehicle models
VVDI supports diagnostic function only for VAG groups, But VVDI2 has achieved multi brand vehicle diagnosis and supports part of vehicle immo programming function and software online upgrade.
VVDI2 can replace lots of customized devices. Users do not need to purchase specific OBD tool for specific vehicle makes which will save you a lot.

Plug-in function, reserved connectors
VVDI 2 can act as a multifunction programmer to connect plug-ins, and read & write IC and CPU data.
Can read and write Benz IR key, Can program key for old and new Mercedes–Benz, Can connect BMW plug to realize OBD function, And meanwhile reserve some connectors for further uses.
The core function is to detect the remote control frequency:
Automatically identify chip type
Support multi-function on VW vehicles
Read BMW ISN
Key programmer
Remote control programmer
J2534 Compatible Adapter
1.Detect key frequency, automatically identify chip type
The test result can show on the main unit display, no need to connect computer

2. Support VAG vehicle diagnostic function
Read & write Immo4/Immo5 system
Learn key
Program BCM remote
K-Line instrument immobilizer box
Correct odometer
Program control unit
Unlock Immo1/Immo2 firmware protection
Support data manipulation tools
3. Support OBD functions on BMW vehicles
Correct odometer
Generate key
Unlock Key

4. Fix CAS4 EEPROM key programmer
Generate specialized chips
Immobilizer data processing tool
Other key tools
Generate remote control
5. Passthru J2534 Introduction
With built-in switch matrix, it supports third-party diagnostic software including:
ODIS, Toyota TIS techstream etc. To perform VVDI2 diagnostic function, third-party diagnostic software should be compatible with J2534 function.

VVDI 2 Superiority:
VVDI technician has devoted themselves to VVDI free update online and update service in the pass five years.
This is what VVDI has been widely respected and ranked as a power tool.
There is no doubt that the more power and high-end configuration VVD2 will inherit the fine traditions.

Apart from free update online service and system optimization, more powerful functions and vehicle models (Like Porsche) will soon be available via update. And other more functions. VVDI2 goes beyond than VVDI in function, connectors and vehicle coverage etc. After all, VVDI belongs to locksmith tool while VVDI2 becomes a comprehensive locksmith device.
Package including:
1pc x VVDI 2 Main Interface
1pc x OBD2 Cable
1pc x USB Cable