AT-200 ECU Programmer ISN OBD Reader Compatible with CGDI-BMW VVDI2 Car Key Programmer
Special Price
$465.00
was
$686.00
BMW AT-200 support BMW ECU Data reading, writing and clone, like MSV90 MSD85 MSD87 N2055 B38 B48
Support BMW IMMO functions, read BMW ISN Code by OBD.
Original from CGDI, Free update online.
Categories:
Default Category, Auto ECU Tools, ECU Chip Tunning, Auto Tools, for BMW, CGDI Prog, Brands, CGDI, CGDI BMW, CGDI BMW, Promotion Offer, AT-200 Programmer, featured ECU tool
CG AT-200 ECU Programmer & ISN OBD Reader V1.7.4

Top 7 Reasons to Get AT-200:
BMWECU Data reading, writing and clone.
ISN OBD Reader--BMW IMMO functions, Read BMW ISN Code by OBD
N13 N20 N55 Platform mode ISN reading
Optimized B48 read ISN function
EGS_6HP Increased programming status judgment
With stable and effictive functions by professional quality test, easy to operate and quick to start.
More than 3000 ECU can be supported ,not just BMW. 
Used together with CGDI BMW, Yanhua Mini ACDP, Xhorse VVDI2 and other equipments to match keys,which will  help you save money (The similar equipment is very expensive).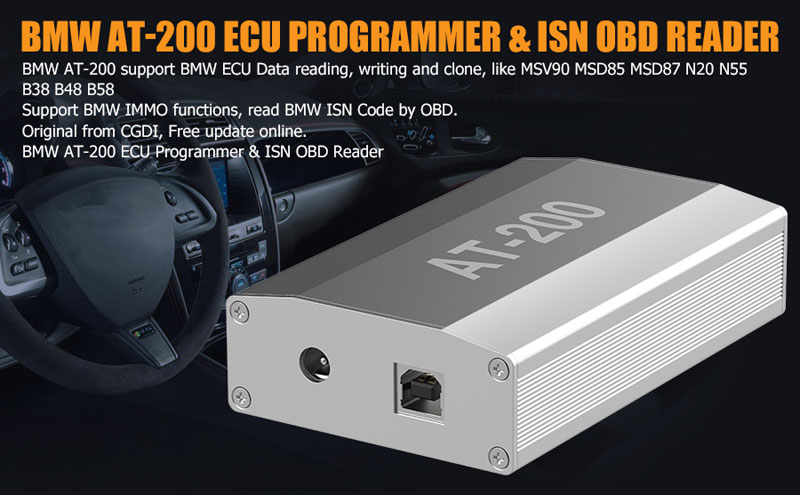 CG AT-200 Tuner Feactures : 

AT-200 supports over 3000 ECUs, including BMW MSV90, MSVD85, MSVD85.1, MSVD85.2, MSVD87, MSVD87.2, N13, N55, N20, B38, B48

Directly read the original ECU data and clone it, no worries about BMW ECU control unit damage problem after replacing second-hand ECU.
Same function as other BMW ECU reading and writing equipments on the market, but cheaper.

Quickly solve the problem for data collection of bmw all key lost.
With stabler and more efficiently unremovable functions. 
If you need All key lost function for BMW 3 Series 5 Series 7 Series X5 X6 GT535 Six-cylinder engine,  only need ISN code to program the keys.

AT-200 Software Language: Chinese, Spanish, English, French, Polish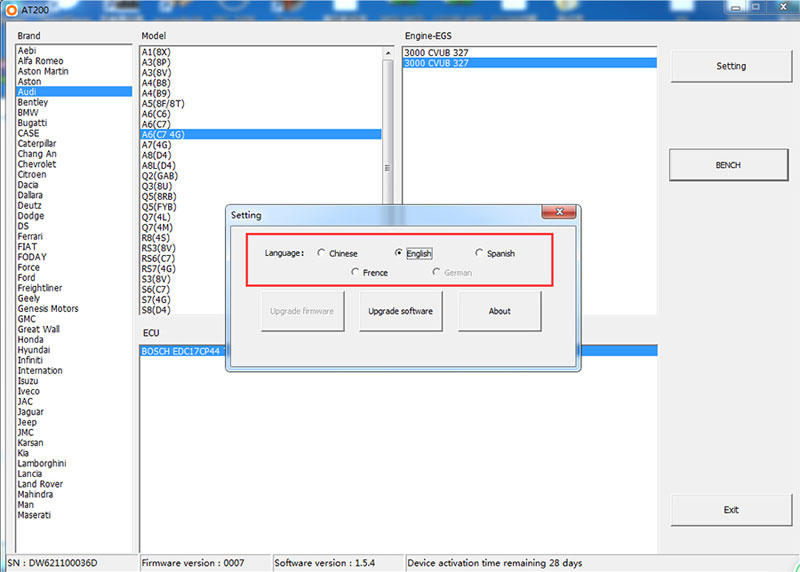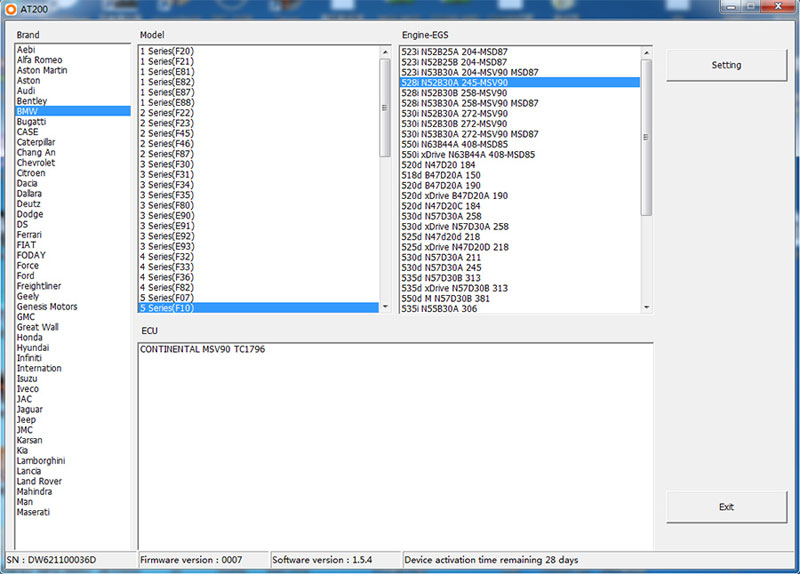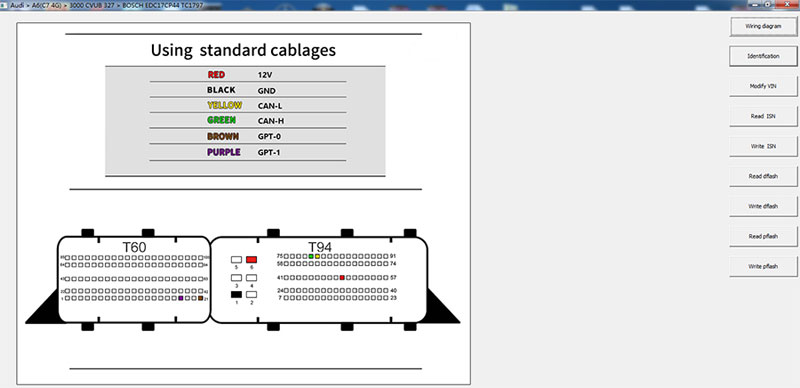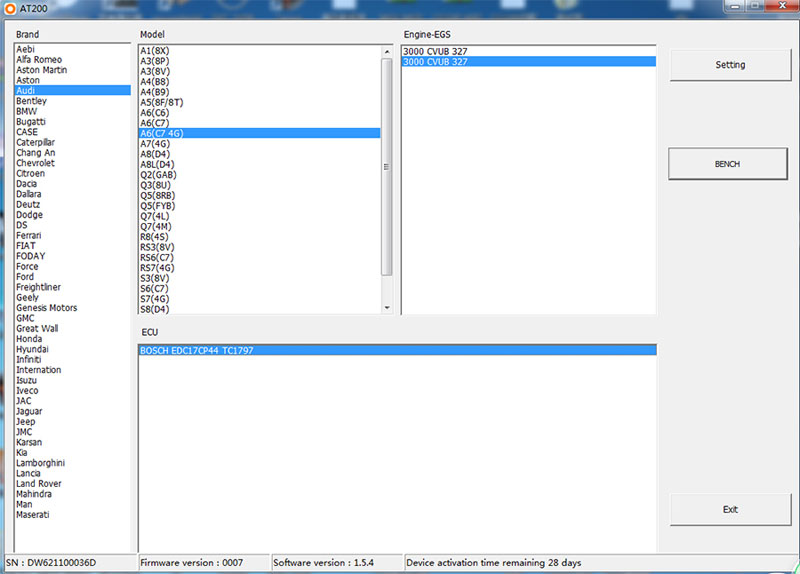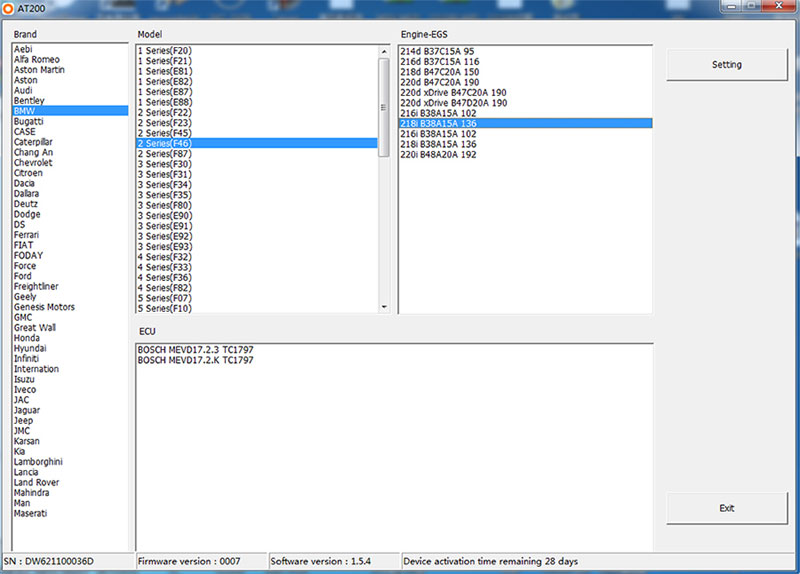 AT200 Software Updated,Latest Version:V1.7.4! 

Free Download AT-200 Update Tool
Enable network connection. System will prompt you the latest software version to update. 

V1.7.4 Update
1. Add Polish language
2. Add DQ200 (TC1766/TC1784): Read and write DFLASH, EXT DFLASH, PFLASH (Need authorization)
3. Add ST10 boot mode (Need authorization)
(3.1) Add M7 (ST10F275) boot mode: read and write EEPROM, read and write FLASH
(3.2) Add ME7.8.8 (ST10F275) boot mode: read and write EEPROM, read and write FLASH
4. Add BOSCH TC series engine file verification (you can choose whether to verify the correction and write the file)
5. Add ECU (BMW / Mini) to read and write ISN, VIN: EDC17C06
6. Add 'Bosch Number Search' button
7. Fix the problem of reading and writing external FLASH of BOSCH TC series ecu
8. Fix TC1728 read and write issues
9. Fix some bugs and optimize software performance
10. Update AT200 Chinese help file
11. Volkswagen Bosch MED17 series ecu clone
12. Volkswagen 06J ecu clone
13. Solve the automatic data verification of Bosch ecu