What FVDI Can Do?
Share your experience, Share your Happy!
Too many buyers also too much want to know what FVDI can do, if it is worth to buy it?
But when FVDI work on certain functions, generally, the users just keep silence.
So, here, we sincerely invite all FVDI users to share your experience on FVDI, kindly tell what FVDI can do, it will help many people!
You can send your expience to us by Email: contact@fvdiobd.com , or add our Skype: OBDIICN .
Thank you very much!
Experience 1: ----Thanks to Gentrit Abazi for his share!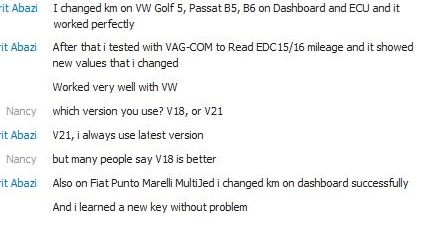 Experience 2: Support 7G transmission and ISM renew data base, renew data base ---- yes, this function work.
7-Gear control units renew with Mercedes Commander ------A user experience: can renew 722.9 Electronic Transmission Control Unit and Intelligent Servo Modules.
This function allows you to reuse these control units in other cars.
The special function requires a database, which can be downloaded from here: http://update2.abritus72.net/downloads/Abritus-7-Gear-Database_05092012.exe
Experience 3 on FVDI VAG:
work very well with scoda octavia 2007, vw jetta 2006, opel astra 2008
I programm key to this cars
all vw group can extract 7 bit no problem
Experience 4:
fiat grande punto 2008 change km-----not ok
iaw ecu read write clone success on fiat , alfa llancia, i tested iaw5af and iaw59f ecu, all ok
Mercedes Benz W211 sbc ----ok
Mercedes ecu edc15c0 , edc15c6 read eeprom with obd -----ok
Mercedes w203 instrment km change by cable --------not ok , not damage
vag edc15 instrument bb0 read/write eeprom ---------ok
opel vectra z18xe ecu read/write eeprom , change km on ecu -----ok
Opel vectra Z18XE pincode read , make key -------ok
Experience on FVDI Nissan:
nissan micra 2002 k11 Key Learning----- ok.
Experience on FVDI BMW:
FVDI can read CAS 3 eeprom by OBD ----- ok.
Experience on FVDI FORD/OPEL/RENAULT/VAG:
Ford Key learning dose not work
I've tried on my car Focus 2005
And Transit 2007
Also failed to read pincode and program keys on Renault Clio symbol 2005
Also failed to connect and read pincode on Corsa C
On VAG cars works from what i have tested
On Peugeot cars also
On fiat I have tested on bench on a Stilo BSI and works well
So until now I have a issue with FORD, RENAULT and OPEL
There are no products matching the selection.